Both SpaceX & Blue Origin are the two most successful names when talking about private space exploration companies. However, SpaceX has always stunned its fans more because of its successful missions while following the goal to make the self-sustaining city on Mars. Whereas blue origin has its mission to move factories and people into space to live and work there so that we will have a better preserved Earth in the future. But today, we are going to compare SpaceX vs Blue Origin. And try to find an answer, which one is better? & Is this question ethical?
While talking about SpaceX vs Blue Origin, some people also say it's a billionaire space race or a new space race of 2021. But let me give a short introduction about the owners of the companies first. SpaceX was founded by Elon Musk, a billionaire who recently became the world's richest person(also known as real-life Ironman) in 2002. And the Blue origin was founded by Jeff Bezos, CEO of Amazon and a multibillionaire in the year 2000.
History and current situation.
SpaceX
Elon Musk started SpaceX in 2002 and has a very struggling history. When Musk first started SpaceX, he headquartered in a warehouse
At that time Musk was facing numerous financial problems & after two continuous fail attempts, he was almost dead broke. But as he got successful in his third trial his company got skyrocketed.
Since then SpaceX has advanced its technologies and launch vehicles. And now, it manufactures and sends reusable rockets in space. SpaceX is the leading global commercial launch provider measured by manifested launches presently.
Blue Origin
On the other side if we talk about Blue Origin then it was started in 2000 by Bezos. He privately funds the company with 1 Billion dollars every year. Therefore Blue Origin has good financial support.
Since its foundation, the company is very secretive about its plans. Blue Origin started research & developing rocket propulsion systems and launch vehicles very first.
But despite good financial support, Blue Origin could not build a space vehicle even after a decade later. Which lead to so much criticism of the company.
But if we focus on the motto "Step by Step, Ferociously" of the company, it certainly means they believe in "slow but steady." Currently, Blue origin provides high capacity vertical takeoff and landing vehicles to access suborbital and orbital space.
Achievements Unlocked SpaceX vs Blue Origin
SpaceX
Since its foundation, SpaceX has unlocked multiple groundbreaking achievements. SpaceX's work has always been trending among spaceflight & space exploration communities.
SpaceX is the first private company to build & send liquid-fueled rockets in Earth's orbit
It has developed the smallest launcher ever made.
SpaceX is the first private company that has accompanist successful launch, orbit, and recover a spacecraft.
Developed the orbital rocket cheapest rocket.
SpaceX is the first company that has developed reusable rockets and reflown them many times.
SpaceX also has developed the largest operational rocket current in the world.
The company also has developed the world's first full flow combustion rocket engine for its reusable interplanetary starship.
SpaceX is also the first private company that has sent humans in space.
SpaceX is also the first private company to send cargo in space and dock at ISS.
Apart from these, SpaceX has also achieved many other innumerable achievements.
Blue Origin
Blue Origin was founded two years before SpaceX and has only managed to fly.
The company has developed and suborbital capsule system called the new shepherd.
Blue Origin has also acquired the technology of reusable rockets with vertical tack off and landing.
They have also made a two-stage orbital launch vehicle which is a giant rocket called New Glenn.
Blue origin has also designed a moon lander 'Blue Moon' intending to send astronauts to the moon again.
This is everything Blue Origin has managed to achieve in two complete decades. Now, it is completely revealed that the achievements of SpaceX completely underweight what Blue Origin has achieved.
Therefore a question arises, Why SpaceX seems to be more successful than Blue Origin?
The answer is simple that depends on their future goals. Now, let's see what are the both company's future goals?
Future Goals SpaceX vs Blue Origin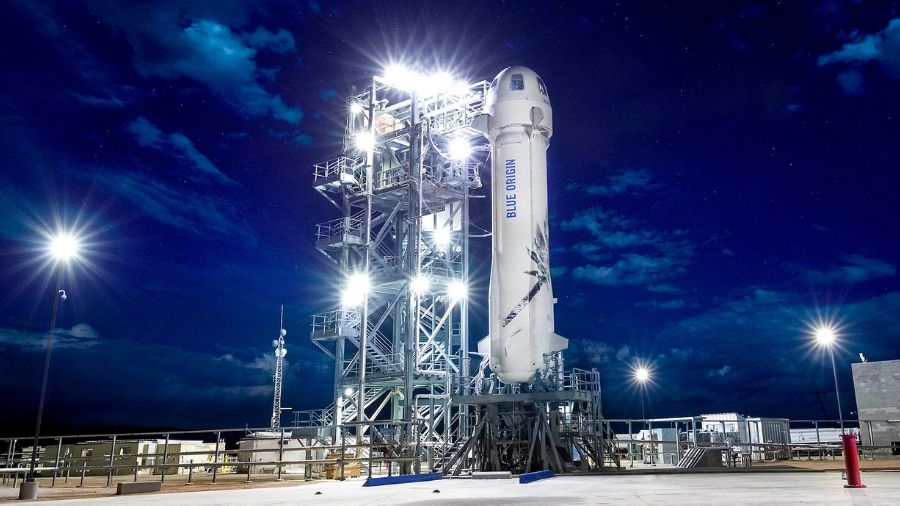 The goals of the both companies are similar, they both want to make space travel cheaper, both want to carry humans in space, both want to save humans and Earth in the future.
But there is a little difference in their viewpoints. Musk has a far clear goal to make human civilization multi-planetary whereas Jeff's goal is to make space inhabitable.
SpaceX
Musk thinks one day in the future we would have used all the resources present on earth. But if we have control over the other planets of the solar system, we can use their resources to fulfill our requirements.
Besides this, Musk also wants to prepare for any unfortunate scenario in the future. Because today, we have developed many advanced technologies such as Nukes, AI, bio-weapons and anyone in them can wipe out the entire human civilization in a flash.
Therefore it would be a better option to make self-sustaining cities on other planets such as Mars, which can serve as a backup civilization in such scenarios.
Blue Origin
However, Jeff thinks that Earth is irreplaceable. There is no other planet in the universe that can be a better alternative to Earth. Therefore we must preserve our Earth for our grandchildren's grandchildren.
But the insufficient resources and increasing pollution on Earth are also some major problems. Whereas, space is full of resources and we also don't need to worry about the pollution there.
Therefore, he wants to make giant rotating space factories and homes where people can live and work by making O'Neill colonies. And this will help us in preserving Earth.
Which one is better?
After understanding their perspective and their future goals one thing is clear, they both are working for humans & humanity. The only difference is, SpaceX has shown its capability to do many impossible missions in less time whereas Blue Origin work step by step doesn't work fast as they believe in "Step by Step, Ferociously."
But the Bule Origin and Jeff's vision to make O'Neill colony has slightly more advantages than population planets by making self-sustaining cities. But it has its disadvantages too. For more information please go with this link.
Apart from this, If we compare the rocket engine technologies of both of the companies, SpaceX vs Blue Origin. We find that SpaceX is much ahead in making powerful and reusable rockets but Blue Origin's rocket engines are much better in technology.
SpaceX still uses kerosene-based fuels but Blue Origin's rocket flies on Hydrogen, which is a marvelous achievement. And the idea behind using Hydrogen is to produce fuel by breaking water on other planets like mars by using polar ice. So we don't need to carry preserved fuel for returning journey.
But what is the result?
In comparison, both companies are best! SpaceX has discovered reusable rocket technologies and developed the most powerful and reusable rockets on the low coast, Blue Origin has created rocket engines that use hydrogen. SpaceX wants to make self-sustaining cities on Mars, Blue origin has its Dream to make O'Neill colonies. SpaceX works fast and has more achievement than Blue Origin, Blue Origin works carefully and surprisingly.
Therefore the question we initiated with(Which one is better? & Is this question ethical?) is not ethical!
So this was all about SpaceX vs Blue Origin. If you still have any doubts or I have missed any details, comment below. And please let us know which company do you like the most SpaceX vs Blue Origin?
If you like this article and found something informative Subscribe to our newsletter above to get more quality of Science, Engineering, CS, What if, What's on Earth, Trending in world-related articles and journals. And please let us know your opinion on this topic in the comment section below. Find more articles here.
Else continue reading
9 privacy settings on internet you should do right now!
We have finally found Aliens. Vanishing of stars may be the work of aliens.
Scientists have found plastic-eating organisms. See how…created it?
9 geek facts and their scientific explanation.
Reference Sources: Wikipedia, SpaceX, Blue Origin